Congratulations to Our 2017 Founders' Award Recipient
Zero Waste Washington has been selected in honor of SueEllen Melle. She joined WA Citizens For Resource Conservation (WCFR) over a dozen years ago. WCFR renamed itself as Zero Waste WA in 2010. SueEllen retired this past December as the Director of Zero Waste WA.
Zero Waste Washington's mission statement:
Zero Waste Washington protects people and our natural world by advocating for products designed and produced to be healthy, safe, and continually recycled and reused. We are the public's voice for zero waste.
Sustainable Path's first grant was made to WCFR in 2007.
Overall, Sustainable Path has awarded four grants (three to WCFR and one to Zero Waste WA, totaling $49,000).
2016 Founders' Award Recipient
OCEANS INITIATIVE
Oceans Initiative uses cutting-edge science and is on a mission to protect marine life, including whales, dolphins, sharks, salmon & seabirds, in the Pacific Northwest and beyond.
Sustainable Path board member Nan McKay noted that "The board wanted to celebrate Oceans Initiative becoming an official 501(c)(3) in Washington State and to support their important research to improve protection of marine mammals in the Salish Sea."
Oceans Initiative was co-founded by Erin Ashe and Rob Williams.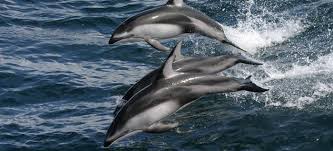 The current focus of Erin's research is the white-sided Pacific dolphin.

Rob is currently a PEW Marine Conservationist fellow (2015 – 2018). His recent blog post, "Which Raindrop Caused the Flood?" can be read here.